Hi, it's nice to meet you, my name is Ken. Following are the top three reasons why I am a Bike Attorney who helps injured cyclists.
First: I am a cyclist!
I'll bet we have cycled past each other on the city streets or through Cleveland's amazing Metroparks, the Cuyahoga Valley National Park, during the Bike Cleveland Fundo or one of Cleveland's many signature club rides, or on the Ohio to Erie Trail (which I've traversed both ways).
The point is, I ride.  I know how we ride—solo, single paceline, and double paceline; what we ride—road bikes, gravel bikes, commuters, hybrids, E-bikes; where we ride—on the roads and the all-purpose trails; and how we ride legally and practically—including our customs, practices, and special legalities. In fact, I wrote a book covering all these topics. Cycling Rights: Bicycles, E-Bikes & Micro-Mobility Devices  is available at Bike Cleveland, local bike shops, and on the shelves of public and university libraries throughout Northeast Ohio. A second edition will be available in spring 2023.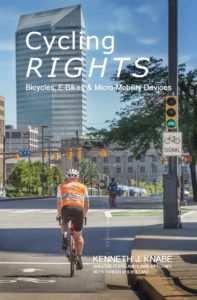 Second: I care, advocate for bicycle safety, and do all I can to prevent bike crashes.
I experienced a bicycle crash in downtown Cleveland in which I was knocked off my bike and injured by a hit-and-run motor vehicle driver. I know how it feels to be left on the pavement—stunned and abandoned by a driver who doesn't care if you're okay. I have friends who have been hit and seriously injured by negligent drivers, a family member who suffered long-term injuries from hitting a bike-unfriendly sewer grate, and I lost a friend in the infamous, fatal Snowville Road bike crash. That's why I take it personally when a cyclist is hit by an unsafe driver and why I do the work I do.
I support and advocate for the following bike organizations to prevent bike crashes:
Bike Cleveland: Corporate sponsor of annual Fundo and Bike to Work events, "Bikes and the Law" co-author, and honored recipient of the "Guardian of Transportation" award for outstanding support of bicycle advocacy
Vision Zero Cleveland: Co-chair on Maintenance & Vehicle Fleet sub-committee. Helped initiate Vison Zero Cleveland's upcoming legislation designed to reduce to zero the serious injuries and deaths on Cleveland's streets
League of American Bicyclists: Knabe Law Firm is one of only two Ohio law firms to receive the League's Silver Level Bicycle Friendly Business Award (2021- 2025)
Ohio Bicycle Federation (OBF): I'm a Board Member for this statewide organization which promotes bike safety laws in the legislature
Ohio to Erie Trail (OTET): I'm a Board Member for this organization which oversees the SBR1 trail running from Cleveland to Cincinnati
Recent media appearances include:
Cleveland.com: 10 safety tips for biking at Cleveland Metroparks – YouTube, 10 safety tips for bike commuters in Cleveland (video) – cleveland.com, 5 kids surprised with new bikes after helping cleveland.com videographer finish 100-mile challenge (video) – cleveland.com
Cincinnati.com, Lakewood's Bike Lawyer Ken Knabe on Cycling Safety | CoolCleveland, Ideastream Public Media: The Sound of Ideas,  The Columbus Dispatch, The Lakewood Observer, Cleveland Law Library, and Cleveland Public Library.
Member & guest speaker on bicycle law and safety at Akron Bike Club, Bike Cleveland, Bike Parma, Cleveland Touring Club, Heights Bicycle Coalition, Lake Erie Wheelers, Silver Wheels Cycling Club, & Stark County Bike Club