$50,000,000
In settlements & verdicts
5,000+
Injured clients served
37
Years of trial experience
+
Top 50 Cleveland 2020 Super Lawyer
GAIN THESE ADVANTAGES
No Downtown Hassle!
Century Law Office Building on Madison Avenue w/ free parking.
Real Convenience!
We answer the phone! Free initial consult after hours & weekends.
True Commitment!
We supports safety w/ sponsorships, education and legislation.
Outstanding Expertise!
"A" peer rated & "Super Lawyer"- Top 50 Cleveland and 100 Ohio & AV Preeminent 2021 Highest Possible Rating in Legal Ability & Ethical Standards
No Risk!
Free initial consultation; All fees contingent upon success!
Results with Experience!
Over $50 million in settlements & verdicts. Over 70 jury trials!
I was riding my bike and was hit from behind by a driver who was texting! I hired bike attorney, Ken Knabe, who came highly recommended. He came to my house and photographed and videoed my bicycle damage and injuries which proved very valuable when it came time to settle. He sent me to a professional photographer to clearly identify my wounds and the resultant scarring. He kept in contact with me; and he and his team put together a great settlement package which helped resolve my claims without a lawsuit. I was very happy with the settlement and his aggressive approach to unsafe drivers who are texting and injuring us cyclists. I highly recommended him.

WHO WE ARE
Greater Cleveland's Highly Qualified Attorney protecting those injured in accidents caused by unsafe drivers.
Kenneth Knabe, Greater Cleveland's Highly Qualified Safety Advocate Attorney protecting fellow cyclists and others injured by unsafe drivers. Proudly supporting Cleveland's bike community through sponsorship, donations, publications, presentations, legislation and education. Knabe Law Firm Co., L.P.A. 14222 Madison Avenue, Lakewood, Ohio 44107.
Phone: (216) 228-7200 E-mail: ken@klfohio.com Website: www.klfohio.com


Kenneth J. Knabe
2021 AV Preeminent Rating®
The Highest Honor Given to attorneys who are ranked at the highest level of professional excellence for their legal expertise, communication skills, and ethical standards by their peers. Martindale Hubbell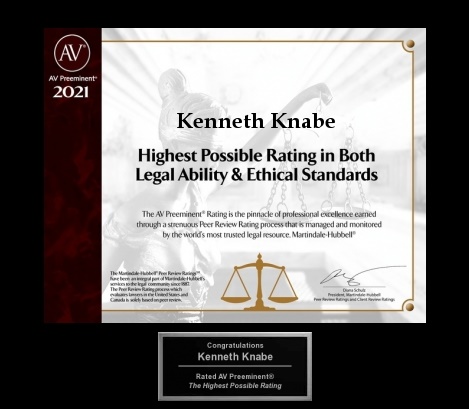 Kenneth J. Knabe
2020 AV Preeminent® Rating
Judicial Edition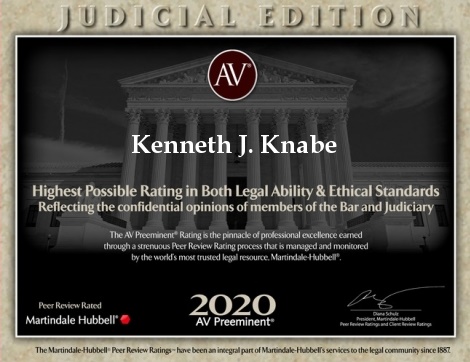 Top