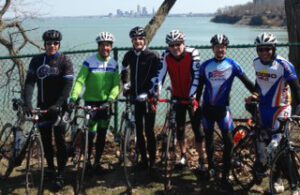 Highly qualified Super Lawyer & Experienced Cyclist Kenneth Knabe – Protecting Cyclists in Greater Cleveland through injury representation, sponsorships, education and Vision Zero safety legislation. Knabe Law Firm Co., LPA: 14222 Madison Avenue, Lakewood, Ohio 44107. Phone: 216 228 7200 . ken@klfohio.com  www.klfohio.com
A bicycle is a vehicle under the Revised Code and cyclists can lawfully ride on most roads, except freeways or limited access roadways. Ohio law provides that a cyclist can ride on a sidewalk but cannot be confined to riding only on the sidewalk. Ohio Rev. Code §4511.711(A) (2016). Ohio provides that its state traffic laws do not prevent local authorities from the reasonable regulating of the operation of bicycles unless the regulation is fundamentally inconsistent with the state traffic laws. Ohio Rev. Code §4511.07(A)(8) (2006). Under this provision, many local ordinances prohibit riding on the sidewalk in a business district.
Since bicycles are considered vehicles, bicycles are lawfully allowed on almost all roads, and bicyclists cannot be confined to riding on the sidewalk.  Many local ordinances prohibit riding on the sidewalk and many sidewalks contain hazards not found on the road.  Any defense that an injured cyclist should have been riding on the sidewalk should be legally and practically rejected.
As a "vehicle," a cyclist must obey all traffic rules applicable to vehicles. Ohio Rev. Code §4501.01(A) (2016) and 4511.01(A) (2016). FYI: cyclists that follow traffic laws are in 75-80% fewer accidents. Also, cyclists following the traffic laws will have the right of way just like any other car or truck. A cyclist must stop at red lights and stop signs. Ohio Rev. Code §4511.43 (2004); yield to pedestrians on a sidewalk. Ohio Rev. Code §4511.441 (2004); use a specified front white activated light, rear red deflector and activated light, from sunset until sunrise. Ohio Rev.Code §4511.56 (2006); and ride in the direction of road traffic. Ohio Rev. Code §4511.25(A) and (C) (2006).
A cyclist must ride as near to the right side of the roadway as practicable and exercise due care when passing. However, a cyclist is not required to ride at the right edge of the roadway when it is unreasonable or unsafe because of surface objects, hazards or if the lane is so narrow that a car cannot safely pass the cyclist. Ohio Rev. Code §4511.55(A) and (C) (2006).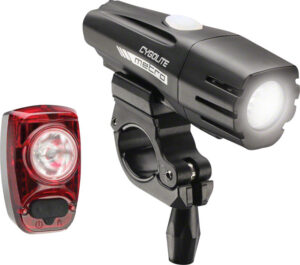 A cyclist must have a front white light and a rear red light activated from sundown to sunrise, when its foggy and when it rains. Ohio Rev. Code §§ 4511.56 and 4513.03.
Predictability is another component for keeping a cyclist safe. A cyclist should avoid weaving or sudden movements and should announce their intentions regarding movement with these mandated hand signals. Ohio Rev. Code §4511.40 (2004).
No points can be assessed to a cyclist who violates traffic laws unless the cyclist is riding under the influence. Ohio Rev. Code §4511.52 (2006). Often times, a police officer may inadvertently issue a traffic citation to a cyclist and fail to delineate it as a no point violation. Be aware and be careful on waiving a traffic ticket.
Ohio law does not mandate the wearing of a helmet, but some cities require helmets, especially for minors. It is generally legal for an adult to operate a bicycle without wearing a helmet but two-thirds or more of fatally injured bicyclists were not wearing helmets.
Ohio law allows cyclists to ride two abreast. Ohio Rev. Code §4511.55(B) (2006), but many local ordinances prohibit it. Query, are these laws fundamentally inconsistent with state law? Probably!
A great resource for bike laws and the dichotomies between local and state ordinances is contained in http://bikelaws.org/neo-bikelaws.htm.
Another very good resource is The OHIO DEPARTMENT OF TRANSPORTATION' S CYCLING SMARTER GUIDE.
https://www.dot.state.oh.us/Divisions/Planning/SPR/bicycle/Documents/ODOTCyclingSmarterGuide.pdf