Highly qualified Super Lawyer & Experienced Cyclist Kenneth Knabe – Protecting Cyclists in Greater Cleveland through injury representation, sponsorships, safety education and Vision Zero legislation.  Knabe Law Firm Co., LPA: 14222 Madison Avenue, Lakewood, Ohio 44107.  Phone: 216 228 7200.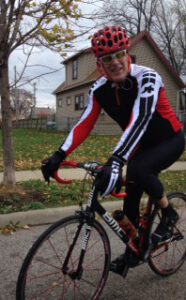 With thanks to WKYC's "The Investigator" Tom Meyer for including me in his feature on the topic of "dooring" on the evening news http://www.wkyc.com/news/investigations/investigator-do-the-dutch-reach-to-avoid-dooring/455572541.  A growing problem for cyclists and drivers, dooring occurs when a motorist in a parked vehicle suddenly opens the driver's side door without first checking to see if anyone (such as a cyclist) is passing on the left.
With the term "bike-friendly" all over town these days, Meyer shared a great tip known as the "Dutch reach", a technique believed to have originated in the Netherlands currently taught in Massachusetts driver safety classes. When parking a motor vehicle and preparing to exit, reaching across the body to open the driver's side door with the RIGHT hand rather than the left causes the body to pivot, providing an automatic view of the blind spot and who/what might be coming along the road from behind.  So, why not give the "Dutch reach" a try?  Then, share it with everyone you know who drives a motor vehicle!
Records of dooring incidents aren't yet kept in the city of Cleveland, but are tracked in Chicago, where one out of every five bike accidents is due to dooring.
Ohio Revised Code §4511.70(C) states that no person shall open the door on the side available to moving traffic unless and until it is reasonably safe and can be done without interfering with the movement of other traffic.  Violation of this statute results in a minor misdemeanor and a fine of up to $150.
Cleveland Ordinance §451.07 says that "traffic" includes bicycles, providing clearer protection to cyclists.
The following local Ordinances simply mirror Ohio Revised Code without specifically mentioning bicycles: §331.48 Lakewood; §452.08 University Heights; §351.08 Cleveland Heights; §351.08 Westlake; §351.16 North Olmsted; §351.08 Rocky River; Bay Village currently does not have an ordinance regarding opening a door into oncoming traffic, or dooring, so the Ohio Revised Code would apply.