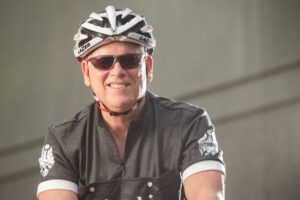 I've been a Trial Lawyer for 39 years, and like many of us I have enjoyed bike riding since childhood. Since starting cycling with friends and then joining larger cycling groups, cycling is a big part of my life. I continue reaping the physical and psychological benefits and enjoying the challenge, camaraderie, the fresh air and freedom of the open road. I have ridden many Century Rides including the Death Valley 100 pictured above. I ride the road solo or with friends three to five times a week in decent weather. I ride indoors in the winter on my Wahoo trainer. My bike collection includes a Diverge, a Roubaix and a Raleigh.
An avid cyclist, I protect and support Ohio cyclists in numerous ways including, and beyond representing injured cyclists. Sponsorships include:
• Bike Cleveland Corporate Sponsor: a grass roots bicycle advocacy group in NE Ohio
• Bike Cleveland/Bike to School & Bike to Work events
• Team Spin/Litzler: an amateur male racing team in Lakewood, Ohio
• Team VeloFemme-Litzler: an amateur female racing team in Cleveland, Ohio
• Cleveland Velodrome Kilo Sponsor: a bicycling and racing complex in Cleveland, Ohio
• League of American Bicyclists Advocate Member
• H2O's Bikes & Bands event sponsor
Publishing and lecturing on bike accidents and safety are further ways I support the cycling community:
• Bikes and the Law section on bikecleveland.org
• Bike Law articles and lecturing to attorneys with Ohio Association for Justice (OAJ) and Cleveland Academy of Trial Attorneys (CATA)
• NEOCycle Night Ride Safety Advisory
Teaching safety classes at many local bike clubs including:
• Bike Cleveland: Bike Smart series
• Lake Erie Wheelers
• Black Girls Do Bike/Cleveland chapter
• Akron Bike Club
• Heights Bicycle Coalition
Currently working with Cleveland City Council's Safety Committee on Vision Zero Safety legislation, bike safety legislation with the goal to eliminate all traffic fatalities and serious injuries on our roads and increase safety and equitable mobility for ALL road users – bikes, cars and pedestrians alike.
Member of numerous local and regional bike clubs, including but not limited to:
• Lake Erie Wheelers
• Bike Lakewood
• Bike Friendly Lakewood
• Euclid Bike Club
• Akron Bike Club
• Ohio City Bicycle Co-op
• Heights Bicycle Coalition
• Stark County Bike Club
• Silver Wheels Cycling Club
• Cleveland Touring Club
• Ohio Bicycle Federation
Installed in front of my practice at 14222 Madison Avenue in Lakewood are two custom-made bike racks, one bearing the name of Bike Cleveland and the other, Bike Lakewood.
Attorney & Cyclist Kenneth Knabe: Protecting Cleveland's Cyclists through injury representation, sponsorships, publishing, lecturing and Vision Zero safety legislation. Knabe Law Firm Co., LPA: 14222 Madison Avenue, Lakewood, Ohio 44107. Phone: 216-228-7200